JConcepts releases new aluminum steering bell-cranks for the B4.1, T4.1, and SC10
Friday, Sep 14, 2012 02:42pm
9/14/2012
By Mike Garrison
LiveRC.com
Outfit your B4.1, T4.1, or SC10 with the all-new JConcepts aluminum steering bell-cranks, battery thumb screws, and aluminum wing mounts!
JConcepts Press Release:
JConcepts has the steering system on the B4.1, T4.1 and SC10 covered with an all new light-weight, aluminum steering bell-crank assembly. A servo saver-less aluminum steering system is CNC-machined and replaces the stock plastic bell-cranks, the steering bell-cranks by JConcepts come in a blue anodized finish and sport machined chamfered silver edges and engraved JC logos. The aluminum, light-weight assembly provides a more rigid steering system with increased steering feel and response. The fit of the new bell-cranks has been improved by the positioning of the bearings to help eliminate binding when assembled.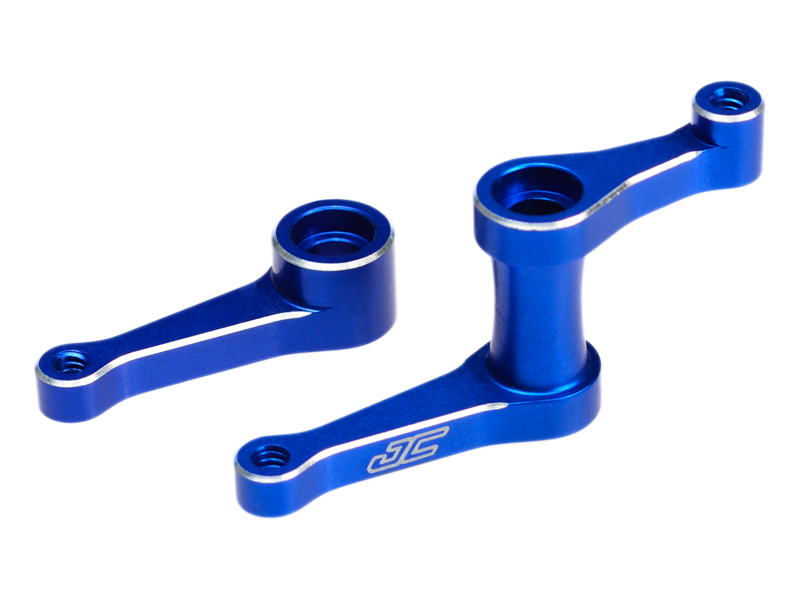 Features:
CNC-machined, aluminum
Light-weight, rigid steering feel and response
Blue anodized with chamfered silver edging
Laser engraved JC logos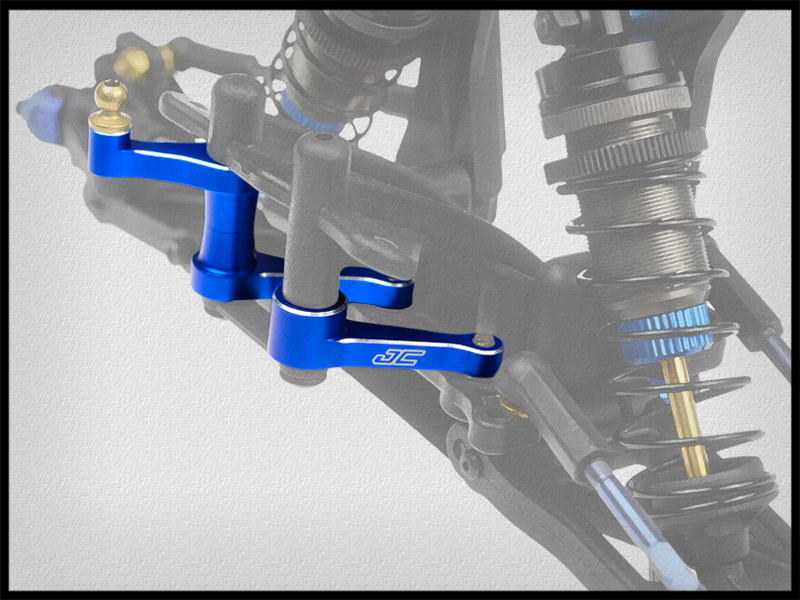 Aluminum rear wing / body mounts for the Team Associated B4 and T4 line  
The rear wing / body mount on the rear of the B4 and T4 vehicle line-up is under a serious load during crashes and inevitable direct landings.   JConcepts has beefed up the wing / body mount area with the introduction of the aluminum mounts specifically designed for the B4 and T4 line of vehicles.    CNC-machined aluminum, available in blue and black color, these mounts are designed in a creative but functional way to add rigidity to a high-impact area.    A direct bolt-on part to the popular duo of AE vehicles adds security, high-end looks and peace of mind for the hard-core basher and racer. 
Features:
CNC-machined, aluminum
Heavy-duty, peace of mind performance
Blue or black anodized with chamfered silver edging
Laser engraved JC logos
Battery Thumb / Wrench Nuts
Securely holding down the battery brace is crucial to the daily activity at any racing or practice circuit. Quickly performing routine maintenance or battery changes is now easier and more secure than ever with the introduction of the JConcepts thumb / wrench nuts. Starting with an alignment friendly cone shape that eases the nut into position, the nut has a larger flange which perfectly matches the proportions of the "Monroe" battery brace and a hex shape which allows a user to use either an 11/32" nut driver or the conventional hand-tightening method. The nut is finished off with a closed-end design which features an etched JC logo for authenticity and brand loyalty.
 
Features:
JConcepts styling and function
Closed-end design, anodized aluminum with etched logo
Available in blue and black colors
Convenient 11/32" hex for easy application by hand or tool
Aesthetic eye-candy